Pink Salmon 6 OZ (170g) Indian Style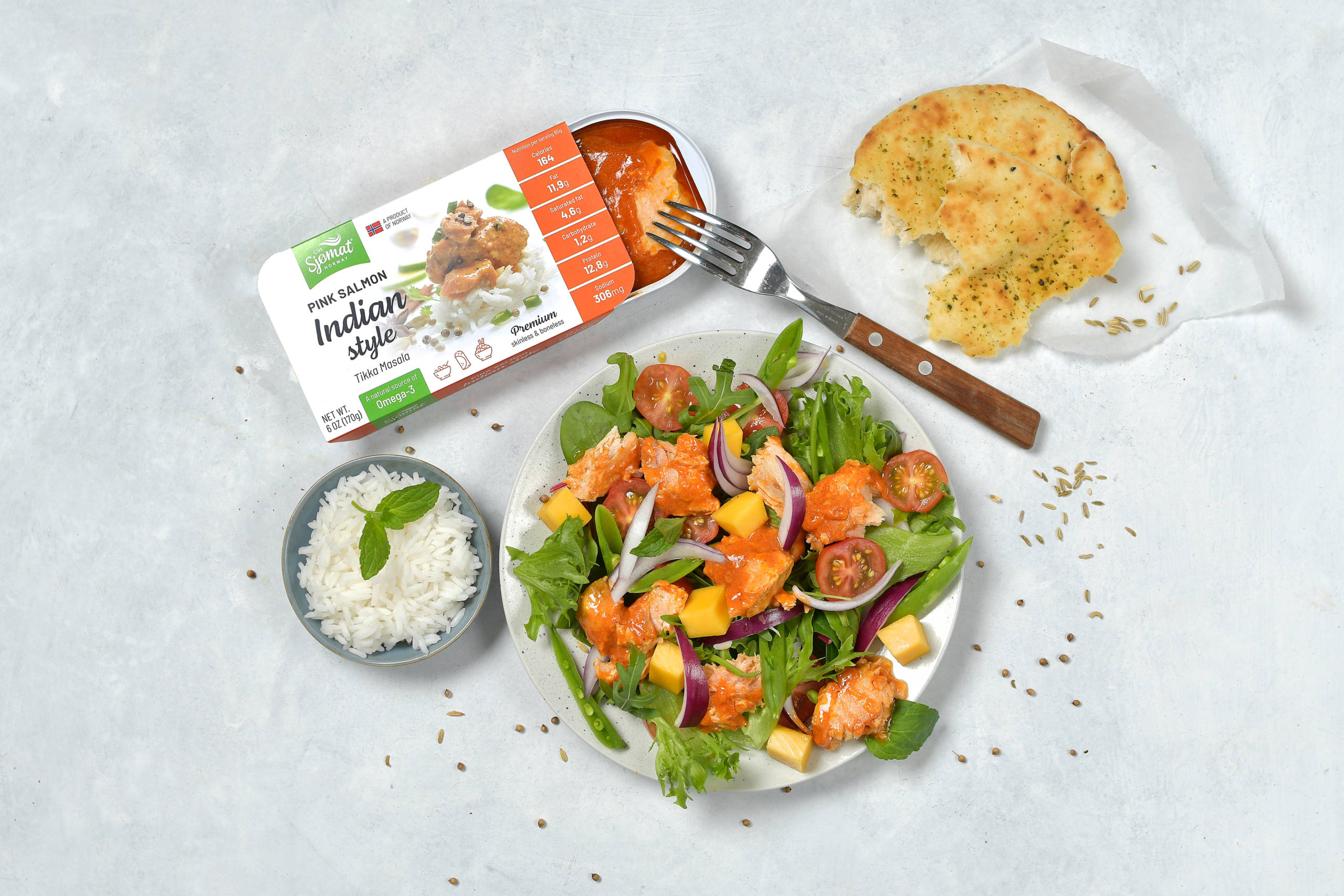 Description
This Indian Style Tikka Masala Salmon is ridiculously tasty! It's loaded with flavor, and great for weeknight dinners and meal prep! Absolutely 'melts-in-your-mouth'.
It is made in Tikka masala style with chilli, turmeric, cardamom, fennel, coriander, paprika, fenugreek, beet,
curry, salt, nutmeg, pepper, anise, ginger, cinnamon, cumin, cayenne, garlic, cloves, tomato puree and coconut milk.
Perfectly loaded with protein, Omega 3 and Vitamin D this is not only tasty, it is also incredible healthy.
Our final note;  This is an easy, delicious, flavorful Indian style salmon that goes very well with rice, naan, paratha and bread.
Skinnless and bonless salmon filets baked and canned in your favourite fusion style sauce, try it!

Nutrition Declaration
Nutrition Declaration
Net weight per can 170g
Nutrition values
Per 100g
*%RI
Energy
808 kJ/ 193 kcal
10%
Fat
14,0 g
20%
Of which saturated fat
5,4 g
27%
Carbohydrates
1,4 g
1%
Of which sugar
0,8 g
1%
Protein
15,0 g
30%
Salt
0,9 g
15%
Vitamin D
10,0 μg
200%
(EN) Ingredients: Salmon filet (Salma salar) 71%, sauce (water, coconut milk, tomato puree, sugars, modified starch (E1442), salt, flavour, chilli, onion, lemon juice, curry, ginger, coriander, garlic, cardamom, cayenne pepper, yeast extract, coriander leaf, cumin, anise, bay leaf, cinamon).